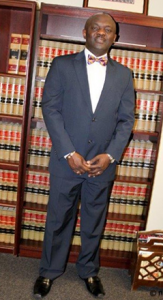 Michael Fondungallah is a founding member of Fondungallah & Kigham, LLC. His practice focuses on all aspects of immigration law, employment law, international law, discrimination law and general litigation. Michael received his bachelors degree in law from the University of Yaounde in Cameroon (1991) and a post-graduate diploma (maitrise) in business law from the same university (1992). He worked for the Tazem Chambers as a pupil lawyer and for The Herald Newspaper before coming to the United States in 1993 and in 2001 obtained his juris doctor JD degree in law from William Mitchell College of Law in Saint Paul Minnesota.
From 1995-1998, Michael worked for Pillsbury as a team leader in Lewisville, Texas where he was HAACP certified and while attending law school worked for Maun & Simon as a law clerk; the intellectual property law firm of Schwegman, Lundberg, Woessner & Kluth as an Information Disclosure Specialist and later for software developer Cyrus, Inc. as a law clerk. Upon graduation from law school, he worked for Westlaw as a research attorney while building his practice.
Michael is admitted to practice in the state of Minnesota (2001), the United State District Court for the District of Minnesota (2006) and the United States Court of Appeals for the Eighth Circuit (2006). He is a member of the National Employment Lawyers Association (NELA) and the American Association for Justice (AAJ). He is also a member of the Minnesota State Bar Association (MSBA) and the Ramsey County Bar Association where he is a member of the board of directors. He has presented papers on "The Landlord and Tenant Obligations under Minnesota Law"; "Representing Clients from Different Cultures"; "Understanding African Culture and Working with African Clients"; "Understanding Diverse Cultures and Working with Diverse Lawyers and Clients"; "The ISAP Program"; "Preparing for Immigration Bond Hearings"; and "Getting Paid, Conflict of Interest and Immigrants."
Michael co-founded and was first president of the Minnesota Cameroon Community (MINCAM) and is also president of the Lewoh Cultural & Development Meeting (LECUDEM-USA) his village development association in the United States. He is also a board member and secretary of the Minnesota Black Chamber of Commerce (MBCC). He volunteers and mentors for William Mitchell College of Law and St. Thomas University School of Law. Michael attends Saint Pater Claver Catholic Church in Saint Paul and sings in the Saint Peter Claver Cameroon Choir. He is also fluent in French.