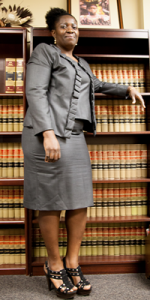 Pamela D. Kigham is an attorney with Fondungallah and Kigham, LLC. She was admitted to practice Law in the State of Minnesota in October 2004. Ms Kigham was a Law Clerk at the Fondungallah Law Offices from 2003 to 2004, while attending William Mitchell College of Law.
She practices in the areas Family Law, U.S. Immigration & Nationality Law and Landlord/Tenants. Pamela Kigham studied law and received a bachelor's Degree in law in 1993 from the University of Yaoundé In Cameroon. She enrolled in the Paralegal Program at El Centro Community College in Dallas, Texas in 1998 and was inducted into the Phi Theta Kappa Society in 2001. Ms. Kigham attended William Mitchell College of Law and received a J.D in June, 2004. She was admitted into the Minnesota Bar in October 2004. She also completed the Guardian Ad Litem program in 2005 and is currently a certified Guardian Ad Litem.
She handles non-immigrant visas such as B1/B2, Student/F1 and HI-B visas, and permanent residency options for individuals. She also represent individuals seeking family-based immigration benefits, consular processing, adoption petitions, deferred action for childhood arrivals (DACA), criminal issues related to immigration, VAWA self petitions (for abused spouses), temporary protected status (TPS), asylum and withholding of removal, and naturalization before the United State Immigration and Naturalization Services and Executive Office of Immigration Review.
In the area of Family Law Ms. Kigham Handles cases such as child custody and parenting time, child support, marriage dissolution/ divorces, legal Separation, third party custody.
Ms. Kigham is a member of the Ramsey County Bar Association, Minnesota State Bar Association and Minnesota Black Lawyers Association.
Ms. Kigham provides free legal services with the Volunteer Lawyers Network in the area of family law. She sometimes provide free translation with the Volunteer Lawyers Network from French to English. She is a panel attorney with the Judicare Program in Anoka County . Ms. Kigham also does some Guardian ad litem work with the First Judicial District in Minnesota.
Ms. Kigham is a member of the American Immigration Lawyers Association and the Minnesota State Bar. She is a member of the Victoria Minnesota and a choir member at the Saint Peter Claver church.
Languages Spoken:
English
French
Pidgin/Broken English
Education:
-William Mitchell School of Law School of Law, St. Paul, Minnesota, 2004 J.D
-El Centro Community College , Dallas Texas , 2001 associate degree in Paralegal
-Yaoundé University, Cameroon , L.L.B , 1993
-Guardian ad litem training, 2005
-Transformative Mediation training 2015
Bar Admissions:
-Minnesota, 2004
Professional Associations and Memberships:
-Member-American Immigration Lawyers Association
-Minnesota State Bar
-Ramsey County Bar Association